New terrace cover for Peijas Hospital from SKS Mekaniikka's plexiglass shields
Peijas Hospital ward P1 has a brand-new terrace cover which is made of SKS Mekaniikka's aluminium profiles and plexiglass shields. Patients use the terrace area for lounging and relaxing.
A challenging location of the terrace area and changing weather conditions set up the requirements for the new terrace cover. The project initiated from the desire to improve the terrace area's usability. Thanks to the new cover, patients can now use the terrace area in any weather.

"The terrace cover is excellent. We have used it now for 6 months and it has withstood through the worst snowstorms and icy cold winter days. It does not have a single sign of use. I believe that this is a solution for us for many years to come" says Tuomo Töhönen who works as Ward Manager at Peijas Hospital ward P1 and was responsible for the procurement in the terrace project.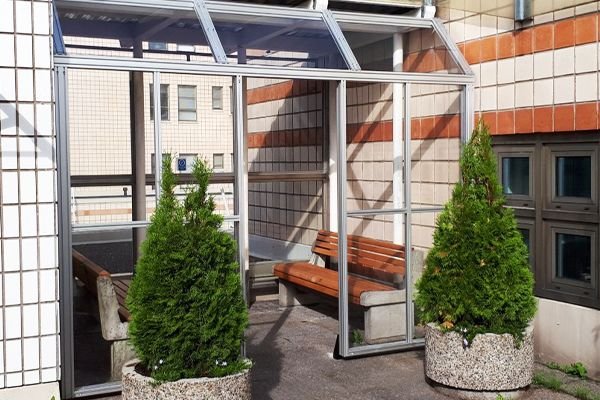 The terrace cover was implemented in collaboration with Peijas Hospital and Aalto University Biodesign project. Peijas Hospital's own technical personnel assembled the cover.
"SKS Mekaniikka's service was excellent. All the persons involved in this project were professional and caught up with our idea quickly. We received a 3D picture of the cover and SKS Mekaniikka took care of measuring the terrace area and designing the best way to assemble the cover to the existing structures" tells Salla Keränen, Project Manager at Aalto University.
"We managed to assemble the cover rather quickly despite some small hiccups in the beginning. In the future, I would also order the assembly work from SKS Mekaniikka", Tuomo continues.

Aluminium profiles can be used in multiple applications. SKS Mekaniikka takes care of designing, machining, and assembling the profiles according to customer wishes - also in customer's location. Up to 90 % of the profiles delivered are machined at some level.